Software Verification for Weak Memory
Objectives
Modern multi-core microprocessors implement weak memory consistency models; prog­ramming for these architectures is a challenge. We want to adapt and use existing static analysis techniques to verify programs with respect to weak memory consistency, guided by the following objectives:
Identifying the existing automated techniques which already handle weak memory verification;
Adapting and fixing techniques which are not sound for this class of problems;
Providing automated tools which offer concrete information and help to developers for software engineering with weak memory.
| | |
| --- | --- |
| Oct 5th 2012 | New sound, optimised strategy for instrumenting critical cycles implemented in Goto-instrument |
| Jul 4th 2012 | We now analyse Apache's fdqueue module |
| Jun 24th 2012 | Concurrent CBMC added to the set of model checkers used for the experiments |
| Feb 22nd 2012 | We report distinct results for Poirot with integer vs. bitvector arithmetic |
| Feb 8th 2012 | SatAbs is now able to handle RCU! |
| Jan 23rd 2012 | Release of the tool and the Coq proofs |
In this paper, we propose a sound transformation of the program to verify, enabling SC tools to perform verification w.r.t. weak memory. We present experiments for a broad variety of models (from x86-TSO to Power) and a vast range of verification tools, quantify the additional cost of the transformation and highlight the cases when we can drastically reduce it. Our benchmarks include work-queue management code from PostgreSQL.

---
In this paper, we identify the data-flow analyses which are sound for weak memory models as is: the analyses based on non-relational domains. We also provide a non-trivial method for fixing analyses sound under sequential consistency but unsound for weaker consistency.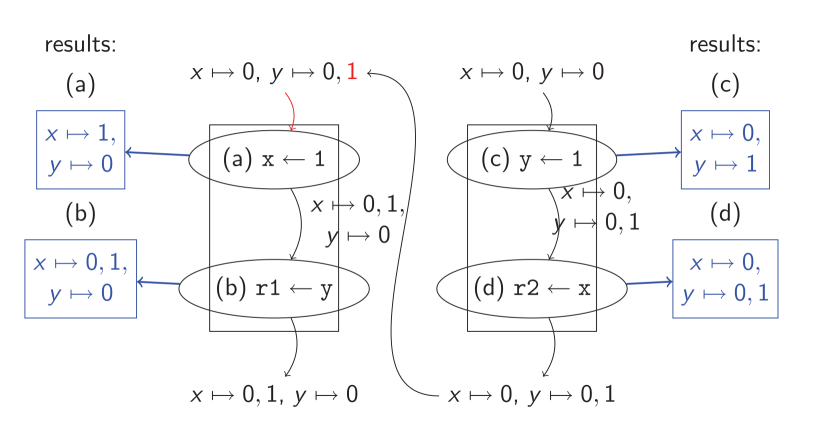 We are releasing binaries for x86 Linux, the source code and the papers proofs.
People